CLEANING TIP SEARCH
Find your cleaning solution below
Search the Queen's cleaning tip solution library by typing in a keyword phrase below:
CAR WAX HACKS – As seen on 3TV/Phoenix (Good Morning Arizona) – Monday, March 25, 2019 – 8:45am & Saturday, March 30, 2019 – 6:50am and 9:45am- Video
View the broadcast video at the bottom of this post.
Keeping Stove tops and Glass Ceramic Cook tops Clean Longer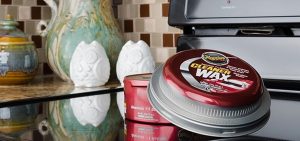 Scrubbing away the stains and crusty charred remains of dinner is a hassle, but with this car wax preventative solution a couple wipes will be all you need!
Yes, you read that right. The same product that keeps your vehicle nice and shiny can help keep your stove looking clean too.
When it comes to your stove top, car wax has the same preventive properties that it has for your car. Future spills, splatters, and food will slide off your cooking surface.
Apply the wax just as you would on your car. This polishing method is safe for all stove types (stainless steel, metal, and glass-ceramic), both electric and gas, and will even keep fingerprints and smudges to a minimum.
The wax treatment should last anywhere from one to two weeks, so when you notice your stove is losing its waxy sheen, and it's harder to clean, just clean and rinse the surface and apply more wax.
NOTE: Always clean and apply wax on a cool cook top not a warm or hot one.
Stove Drip Pans
This will work equally well on drip pans. Be sure they are clean and then apply the wax and buff off.
Polish your bathtub and shower
Tiles, shower doors, and of course bathtubs are some of the hardest surfaces to keep clean. If you polish them with car wax after a deep clean, calcium deposits and dirt will have a harder time taking hold in the first place and your bathroom will stay cleaner, longer. When the water quits beading up, clean and reapply the wax.
Shower Doors
This will protect your shower doors so that water, soap scum and mineral deposits will roll right off.
Window
If you have a window over the shower, clean it well and give it a good coat of car wax. The water and soap scum will bead up and roll away. Reapply once the water quits beading up.
BBQ Maintenance
Exterior BBQ surfaces are often made of dark painted metal and tend to easily collect dirt and rust. A layer of car wax is great for preventing both.
Dustpan Treatment
If you coat your dustpan with car wax, nothing will stick to it. This is also a great trick for fan blades or other light surfaces that tend to attract dust.
Prevent Water Spots
If your calcium-rich tap water immediately causes water spots everywhere and it drives you nuts, try using some car wax. Cover any smooth surface with a thin layer of car wax and water will bead up and roll off easily.
Protect Tools
Apply a layer of car wax to a shovel and the dirt will slide right off and it won't rust either.
Protect your garden furniture
Car wax will protect both metal or plastic furniture from heavy rains, dirt, and sun. It helps to prevent rusting so that furniture lasts longer when exposed to the elements.
No More Foggy Mirrors
Mirrors won't get fogged up if you apply a thin coat of car wax on them. No more getting out of the shower and trying to wipe off a steamy mirror.
Kitchen and Bathroom Tiles
Apply a thin layer to tiles in the kitchen and bath. A layer of car wax causes dirt to bead up and roll away easily.
QUEEN SAYS: I especially like paste car wax for using in the house. Look for Turtle Wax. It's reasonably priced and does a great job. Available at big box stores and auto stores.
Another one to try: Armor All Ultra Shine Total Vehicle Detailer. Available at big box stores like Walmart.
Watch the broadcast video: