Description
Vapamore MR-100 Primo Unit – The Ultimate In Steam Cleaning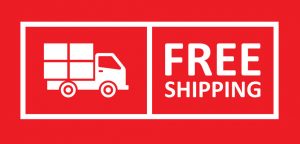 FREE SHIPPING! Hundreds of hours of testing and research by the Vapamore engineering team were dedicated to custom build this all new top ranked steam cleaning system. What they created was a device of refined quality unlike any other, the MR-100 Primo. In Italian, Primo means 'first'.
Awarded Best Steam Cleaner in Class by the leading consumer rating digest, each burst of steam from this ultramodern machine leaves a powerful, deep clean. Homeowners are discovering the versatility and power of the MR-100 as it chemically free deep cleans the kitchen, bathroom, garage, backyard, BBQ grill, and thousands of other areas around the home and office. The all new Primo was redesigned after seven years of customer feedback with a variety of new tools and accessories to further improve ease of use and to perform even better than before. All the tools and accessories you need are included to give you maximum utility and protection from the risk of viruses, allergens, bacteria, mold, and mildew and a significant advantage over pests such as bed bugs, and dust mites, and other. No other steam cleaning product in the industry offers such incredible value.

Built for a lifetime of use, the MR-100 Primo is backed by superior customer service and the exclusive Vapamore Lifetime Warranty.
BONUS items INCLUDED inside the box (Exclusively from Queen of Clean):
2 large high quality red Micro Fiber cloths
1 Queen of Clean Apron
1 (set of 4) Bed Bug Finder product
Floor Cleaning Head

Triangle Corner Brush

Extension Tubes X 2

Water Level Dipstick

Steam Gun and Hose

Carpet Slider

Micro Fiber Floor Pad

Detail Accessory Adapter

Jet Nozzle Tool

Detail Scraper Tool

Nylon Grout Brush

Nylon Brush Medium

Nylon Brush Large

Brass Metal Brush

Clothes / Fabric Tool

Fabric Tool Cotton Cover

Smooth Surface Squeegee

Measuring Cup

Fill Funnel

Accessory Storage Bag

Replacement O-ring Set
Power Supply: 120v 60hz

Heating Element: 1500w

Steam Pressure: 3.5 Bar – 50 PSI MAX

Steam Temp.: 210-220°F

Tank Capacity: 1.6 L

Steam Time: 50-60 min

Heating Time: 11 min

Flow Rate: 40g / min

Sound Level: 30 db

Power Cord Length: 18′

Steam Hose Length: 6′

Max Reach: 10′

Weight: 10.5lbs

ETL Certified

UPC: 860390000024
The Benefits of Cleaning with Steam
Steam has countless uses as an effective green and chemical free way to clean, disinfect, deodorize and much more. No more using poison or toxic chemicals, steam cleans and disinfects using only water and heat.The following are just a few examples of the limitless uses of steam cleaning.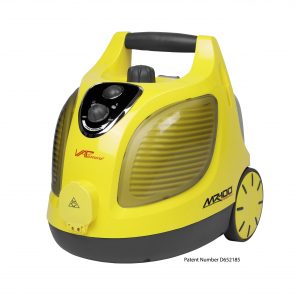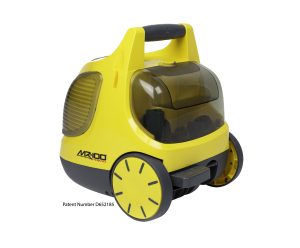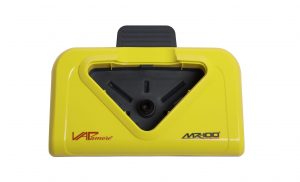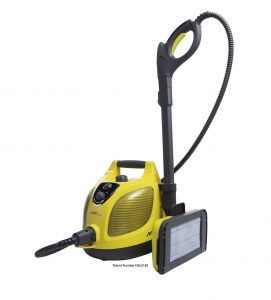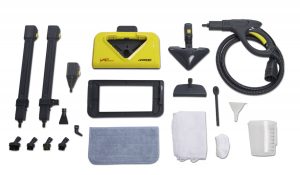 HOUSEHOLD:
Disinfect chemical free surfaces in the kitchen and bathroom. Clean ovens, grills, appliances, sinks, facets, showers, toilets, mirrors, tile, baby and pet toys, stains on carpets and upholstery, grout, hard surface floors such as wood, stone and vinyl, defrosting freezers, garage floors and windows. Uses outside of the home such as BBQ grill, patio furniture, garage and automotive, motorcycle, RV, boat and small ATV recreation vehicles.
CONSTRUCTION SITES:
Remodeling such as removing wall paper, vinyl and paper stickers, fire clean up, stain removal, graffiti, ink, and general site cleaning, equipment cleaning.
FLOOD AND FIRE RESTORATION:
General site cleaning, mold and mildew removal, stain and equipment cleaning.
ALLERGY CONTROL:
Kill allergens such as dust mites, spores, mold and mildew chemical free.
AUTOMOTIVE, MOTORCYCLE, BOAT, RV:
Detailing including interior stain removal, exterior, wheels, brake dust, engine compartment, etc. Auto shop uses such as grease removal, engine and parts cleaning, flushing, etc.
PEST CONTROL, BED BUGS:
Kill bed bugs, dust mites, and other pests chemical free. See the bed bug videos and treatment pages for details and use.
GROUT CLEANING:
Cleans grout lines on tile and stone floors, showers and enclosures.
HOSPITALITY, RESTAURANT, COMMERCIAL KITCHENS:
Clean ovens, cook surfaces, cutting boards, exhaust hood filters, carpet freshening and stain removal, defrosting freezers, grills, sanitizing and degrease equipment, odor control, bathrooms, floors, walls, furniture, air vents, and hundreds of other uses.
GUM REMOVAL:
Steam away gum on side walks, walk ways, tile, cement and other surfaces.
PET CARE AT HOME:
Clean pet cages, bedding, crates and toys chemical free along with cleaning floors in your home so pets wont ingest chemical cleaners from surfaces and their paws.
ANIMAL CARE FACILITIES:
Use for cleaning pet pens, crates, cages, veterinarian offices, and all around chemical free cleaning.
HOSPITALS AND CARE FACILITIES:
Use in bathrooms fixtures and showers, floors, furniture, drapery, hand rails, air vents, wheelchairs, Bedding, equipment, food trays and carts, pest control, bed bugs, dust mites, allergens, and hundreds of other Chemical free cleaning uses.
SPORTING GOODS:
Bikes, ATV's, motorcycles, riding gear, golf clubs, work out equipment and any sporting gear.
JEWELRY:
Steam clean rings, chains, watches and other jewelry.
FOOD PROCESSING:
Mixers, ovens, grills, tables, cutting boards, exhaust hood filters, floors and walls, defrosting freezers, sanitizing and degrease, equipment and repair and maintenance,
AIR CONDITIONING AND HEATING:
Sanitizing and cleaning refrigeration equipment, HVAC coils etc.

Built for a lifetime of use, the MR-100 Primo is backed by superior customer service and the exclusive Vapamore Lifetime Warranty.